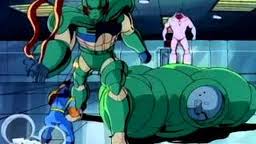 This is the third episode of the fourth season of
X-Men: The Animated Series
.
Characters
Protagonists:
Antagonists:
Plot
After the college where young Charles Xavier was hiding in explodes, Bishop, Shard, Wolverine and Storm decide to back in time again, to prevent Xavier from dying and the 'Age of Apocalypse' from passing. Before they can though, they are attacked by racists.
After this skirmish, Wolverine decides to give up and asks Bishop to take him back to his own timeline but Storm manages to persuade him to stay. Bishop worries that the effects of Xavier's killing may have disrupted his own time now. Bishop as proven right as they return to 2055 and find that Master Mold is in power, with Forge looking more robotic than usual. Forge refuses to show the mutants his time machine and they time travellers fight a robot that walks in on them. Shard persuades Forge to take them back to 1959 to try again but she is killed by Nimrod before they can travel back.
Meanwhile, Trevor Fitzroy and Bantam are talking with Master Mold. Fitzroy overhears how the robots plan to kill him after they are finished with him. With this knowledge, Fitzroy visits the time travelling mutants and gives them a holographic message to show to the version of him in 1959.
Back in 1959, after Xavier leaves the diner during the fight with the racists (last episode), he runs into Bishop and reads his mind, revealing that he has knowledge of the explosion to kill Xavier. The group go to the college and witness Fitzroy and Nimrod planting the bomb. Bishop shows Fitzroy the holographic message from his future counterpart and travels back to the future, with Nimrod and Bantam. After Wolverine throws the bomb to a safe distance of explosion, the previous group of Bishop, Shard, Wolverine and Storm blink out of existence and Bishop states that the only reason they aren't is because of bracelets the four are wearing. Wolverine and Storm share a final kiss and take of the bracelet, wiping themselves from existence.
In the present day, the normal Xavier, Wolverine and Storm are enjoying a picnic together in New York City.
Crew
Writer: Gary Greenfield
Cast:

Philip Atkin: Bishop
Cathal J. Dodd: Wolverine
Kay Tremblay: Shard
Alison Sealy-Smith: Storm
Marc Strange: Forge
Cedric Smith: Charles Xavier
Christopher Britton: Master Mold
Unknown: Fitzroy
Unknown: Bantam
Notes